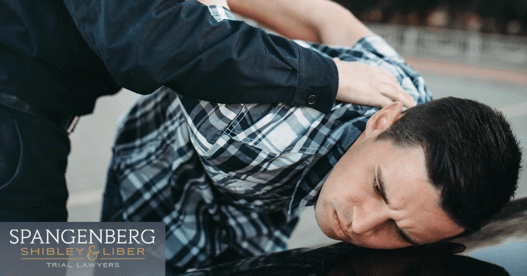 Whether at a traffic stop or because of a public complaint, law enforcement interactions can quickly escalate, putting multiple people at risk of harm. During an arrest, an officer may use more force than necessary, going beyond what is needed to subdue a suspect. This may be excessive force and those who are injured have rights to hold the officer(s) accountable.
It's vital to understand what excessive force is and your rights when it happens.
When Force Goes Beyond What's "Reasonably" Necessary
Force is a necessary part of policing, including in situations, for example, involving resisting arrest or failing to comply with an officer's orders, or running from law enforcement. Typically, this includes one or more officers restraining the suspect or using a taser or other weapon or device to subdue a suspect. Police officers, however, must consider the "totality of the circumstances" when determining what force, if any, is reasonable.
Recently, there have been many situations demonstrating that excessive force is a problem. Some officers fail to follow the rules and limitations on the use of force in violation of our constitutional rights.
If a non-threatening suspect is complying with an officer's orders, the officer generally may not use force that includes:
The use of a taser
The use of pepper spray
The use of non-lethal weapons
The use of lethal weapons
Punches, kicks or strikes
Even the law enforcement officer's positioning can be considered excessive, such as the officer having his or her knee on someone's neck causing a lack of oxygen or locking the suspect in a choke hold when the suspect is already cuffed.
Working with an experienced civil rights attorney can help you understand if your rights may have been violated during an encounter with police.
Here When You Need Us
Law enforcement officers deal with some of the most dangerous situations anyone is asked to confront, and it's important to provide police officers the training and tools they need to make their job as safe as possible. There are some situations, however, when the force used goes well beyond anything that was reasonably necessary under the circumstances. In these situations, it is critical that police officers be held accountable for violating our most basic rights as Americans.
Our team at Spangenberg Shibley & Liber LLP is here to fight for your civil rights. We have a long tradition of investigating and pursuing civil rights cases in Ohio and throughout the country. Our Cleveland police misconduct attorneys are ready to evaluate any police encounter. We've helped countless clients through dogged representation get the justice they deserve, and while we have the upmost respect for law enforcement officers, we are resolute in standing up against them and the government agencies that employ them on behalf of those who have been unlawfully injured or killed at the hands of law enforcement officers.
Call us today at (216) 600-0114 to discuss your case.