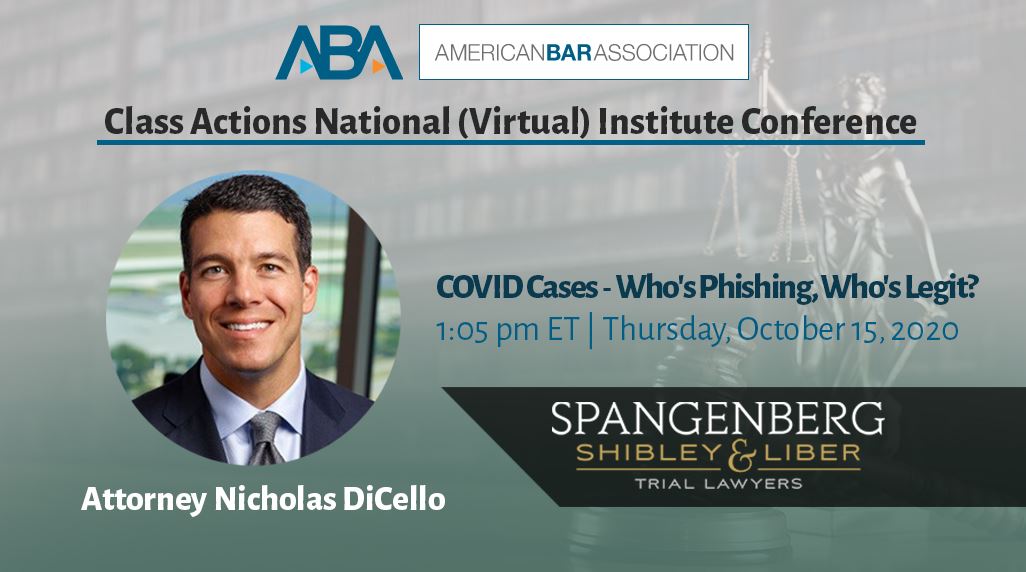 Despite the ongoing coronavirus pandemic that has forced many important legal proceedings out of the courtroom and into online forums, class actions continue to be filed steadily and bring big legal changes as they conclude. The American Bar Association (ABA) will soon host its "Class Actions Virtual 2020 National Institute Agenda" online seminar to help litigators better understand class actions in general and key decisions that have recently affected class action procedures, including those passed down from the Supreme Court.
The multiday seminar will feature Attorney Nicholas DiCello of Spangenberg Shibley & Liber LLP. He will be speaking on Thursday, October 15th, which is the third installment of this online presentation. Nicholas will help present an hour-long course called "COVID Cases – Who's Phishing, Who's Legit?" The discussion will cover everything from class actions against universities who charged students full price for remote courses to lawsuits brought against insurance companies who have largely failed to provide commercial-interruption insurance coverage to businesses impacted by lockdowns.
If you are a class action lawyer or a civil law litigator, then you are definitely going to want to attend the Class Actions Virtual 2020 event, especially when Attorney DiCello is featured. You can learn more about the program's schedule and speaking agenda, you can click here to visit the official ABA website. You can also register for the event by following this ABA link.
To learn more about Attorney-Partner DiCello of Spangenberg Shibley & Liber LLP or the cases our Cleveland law firm handles regularly, call (216) 600-0114 today.