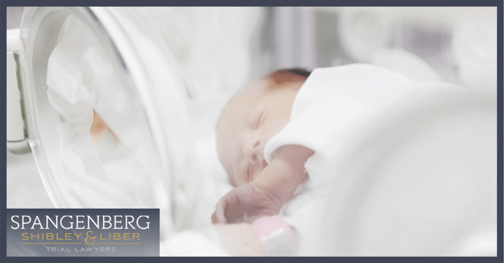 The birth of a child is one of the most glorious experiences people can have. As long as there is safety and care in place, everything should work out fine. Unfortunately, there are some situations in which negligence can play a role in potentially causing your baby to suffer potential harm.
Birth injuries are some of the most serious medical problems as they often cause lifelong disabilities and damages. As such, it's vital for you to recognize the potential harm your baby may endure and what can cause such health issues. Having a clear understanding of different birth injuries can also help you learn about your rights to pursue compensation for you and your child.
Some of the most common birth injuries include the following:
To learn about each of these types of birth injuries and your rights, click on the links above or continue reading.
Call our firm at (216) 600-0114 today and learn more about your potential options.
Cerebral Palsy
Cerebral palsy is one of the most common types of birth injury and occurs in roughly 2-3 out of every 1,000 births. Unfortunately, this is a collection of disorders resulting from problems that may arise during the labor and delivery process that leads to significant brain damage.
When a baby has cerebral palsy, it often impacts his or her ability to control motor function, as well as potentially causing intellectual and behavioral problems. Seizures can also occur. It's difficult to imagine your baby suffering problems with motor impairment, developmental disabilities, and more, but these are common symptoms when a baby suffers from cerebral palsy.
Some of the most common causes of cerebral palsy include oxygen deprivation due improper monitoring during the pregnancy or during labor, improper use of birth-aiding tools, prolonged labor, and more. When medical professionals fail to recognize fetal distress, it can lead to long-term issues, and it is often the medical professional who is responsible for the damages.
Bacterial Infection
A mother may become colonized with Group B streptococcus (GBS) bacteria at any time during pregnancy. GBS screening is recommended during the later stages of pregnancy because approximately 50% of women with GBS will transmit the bacteria to their baby during labor or delivery. A baby that becomes infected with GBS can develop severe neurologic injury. The failure to recognize and treat a Group B strep infection promptly after delivery may also give rise to a claim of negligence against the hospital staff providing care to the baby.
Erb's Palsy Injury
Erb's palsy is a condition that affects the arm and hand and typically results from an injury to the nerves in an area where they exit the neck known as the brachial plexus. These nerve injuries are usually caused by excessive pulling on the baby's head during a vaginal delivery, either because the baby is too large for the maternal pelvis or because the baby is malpositioned.
If your baby suffers an injury to the brachial plexus the symptoms may be mild from a stretching of the nerves, resulting in only a temporary injury. However, more severe damages from tearing of the nerves may result in partial or complete permanent paralysis of the arm and hand.
Whenever negligence results in your baby suffering significant harm, you and your family have legal rights and options that must be safeguarded. Our team at Spangenberg Shibley & Liber LLP works hard to give you a voice and take a stance against careless behavior. Our goal is to guide you through the process.
Our Cleveland birth injury attorneys are committed to you during such a difficult time. We know how tough it is to watch your child endure harm which was preventable. As such, we always go the extra mile when your rights are on the line, providing you with the highest quality legal care possible to pursue the maximum compensation you and your child deserve.
Call our legal team today at (216) 600-0114 and speak with one of the members of our firm about your potential rights and options.