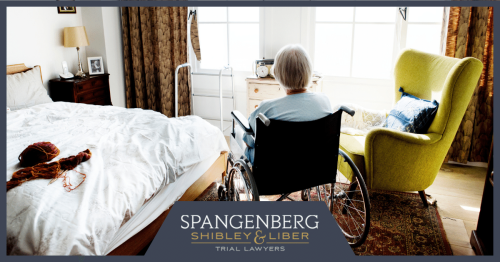 The decision for a family to have an elderly loved one in a nursing home can be a very difficult one. You want to know that your loved one is happy and that they are receiving the best possible care. Unfortunately, you may not always be sure that this is happening.
This is because there are many problems that can occur in a nursing home. Many of these can result in serious harm to your loved one in multiple forms. Knowing what these problems are can help you pick the right nursing home and protect your loved ones as much as possible.
Typically, in a nursing home, there are a few main problems that can exist that could cause your loved one harm. This includes physical abuse, mental abuse, financial abuse, malnourishment, and neglect. Discover more about each of these below.
Physical Abuse
This is exactly what it sounds like it is—the physical abuse of the elderly involving hitting, shoving, and other acts that can result in the elderly suffering physical harm. Many of the times, the abuse is done in a way that nursing home staff members feel hide the evidence of the abuse.
For the family members of the elderly, it's important to recognize what can happen, how it impacts your loved one, what you should look for, and how you can report physical abuse.
What can happen: Physical abuse can include slapping, hitting, pushing, or even grabbing. Typically, this can result in bruises and other painful marks on the elderly resident's body.
How it impacts your loved one: Not only will your loved one suffer from the pain associated with the abuse, but they may fear the person responsible for the abuse, resulting in behavioral changes.
What you should look for: Check for physical marks on your loved one. The staff may try to claim that your loved one fell or something else happened, but you can also observe how your loved one acts around certain people which could indicate the presence of abuse.
How to report it: Not only do you want to report the abuse to the nursing home management and the government entity responsible for investigating these matters, you can also alert the authorities as the physical abuse can be considered assault and battery.
Mental, Emotional, and Verbal Abuse
These all fall under the same category and while they don't result in physical harm, they can impact how your loved one acts and other aspects, such as their hunger and quality of life. It typically occurs in situations where the staff insults the elderly, tells them things that demean them, and threaten physical abuse.
Mental abuse can often be worse than the physical abuse because of the fear and anxiety many individuals develop. This can result in long-term issues and change how the individual acts in a place where they should feel most comfortable.
Financial Abuse
Many of the elderly individuals in nursing home facilities have control of their financials, but they are also vulnerable to those around them including staff members, other residents, and even some visiting family members.
Financial abuse can occur when these individuals gain the trust of the elderly and steal from the elderly resident in a manner that results in significant financial loss. In many cases, this can include directly stealing cash from their property or accessing their bank account.
This can be detrimental to an elderly individual, especially when they rely on those funds. It's important for family members to stay vigilant when it comes to financial accounts to determine if any discrepancies exist.
Malnourishment
You want to know that your elderly loved one is receiving nutritional meals and anything else they need. If you notice that your loved one is experiencing significant weight loss while in a nursing home, there may be a problem with malnourishment.
The more weight your loved one loses, the more they're at risk of suffering serious problems including bed sores, health issues, and more. Malnourishment is a serious problem and if not remedied can cause even fatal damages to the elderly.
Neglect
Many nursing homes have a staff-to-resident ratio that is well below established standards and puts those in the nursing home at risk of neglect. When staff members don't have the time to provide individualized care, they may find it easy to skip over a resident who may need specific help.
When that help, and care is not provided, it can be considered neglect and the elderly can suffer harm.
For instance, if someone is a fall risk and there is no staff member to help him or her to the restroom, the individual may try to do it alone. This can lead to a serious fall and significant injuries, and the staff members can be held liable.
At Spangenberg Shibley & Liber, our Cleveland nursing home abuse attorneys are dedicated to helping the elderly and their families when any kind of harm occurs. We know how serious this can be and the elderly can suffer significant damage (physically and mentally) as a result.
We work hard to help you and your families fully understand your rights moving forward so you can pursue the justice you need. Trust that your well-being is our top priority and we'll do whatever we can to help you move forward from this situation in the most favorable manner possible.
Call our firm at (216) 600-0114 today and discuss your potential case with a skilled legal advocate who stands ready to give you the voice to fight for your rights.