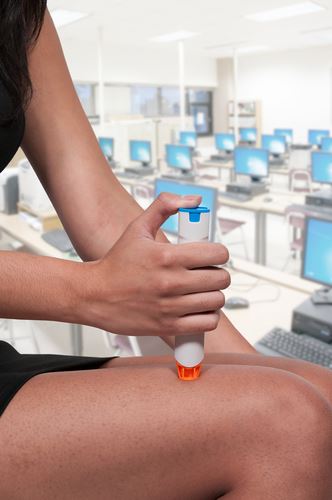 In March of 2017, Meridian Medical Technologies' issued a voluntary recall of 13 lots of Mylan EpiPen and EpiPen Jr. devices over a potential defect that can result in the auto-injector product's failure to activate. According to an FDA News Release, the recall affects 13 lots of EpiPen and EpiPen Jr distributed between December, 2015 and July, 2016, and includes auto-injectors with 0.15 mg and 0.3 mg epinephrine.
The recall stems from a potential serious defect in which a component of the auto-injector device can fail to fire and deliver an intended dose of epinephrine, a chemical that can rapidly control serious and life-threatening symptoms of a severe allergic reaction (anaphylaxis).
As we have discussed in a previous blog post, an FDA warning letter released in early September, 2017 noted that Meridian Medical Technologies, which is owned by Pfizer and which manufactures the EpiPen for Mylan, failed to adequately investigate reports of the product malfunctioning, including reports involving consumers who experienced serious illnesses or death due to the device's failure to fire when used as an emergency treatment for anaphylaxis.
The FDA also noted Meridian made signification violations of safe manufacturing practices when it failed to take market action and recall bad batches following repeated investigations that found the same defective component in faulty units. Shortly after an FDA inspection in early 2017, during which it was discovered that Meridian did not investigate and disassemble the majority of faulty EpiPens sent back by customers, Mylan issued the voluntary recall.
Potential Defects with Life-Threatening Risks
Anyone who uses an EpiPen, or knows someone who does, needs to be aware of the EpiPen recall. Consumers carry these auto-injector devices for use in emergency situations, and critical defects that prevent them from firing can pose profound risks. This is because people who experience severe allergic reactions can suffer from life-threatening symptoms, including low blood pressure, closing of the airways and breathing difficulties, and anaphylactic shock.
When an epinephrine auto-injector device fails to fire as it should when it should – during anaphylaxis – consumers are at risk of suffering serious injury and illness, as well as possible death. As the FDA reports, this has been the case for an unspecified number of consumers.
The Rights of Victims
As a manufacturer, Meridian has an obligation to ensure its products are safe for use by the public and that they will work as intended. Serious defects, as well as serious failures to investigate and address those potential defects, put the lives of consumers at risk – and are avoidable if not for negligence. As such, victims who do suffer harm, or families who have lost loved ones when faulty devices lead to a fatal allergic reaction, have the right to pursue compensation for their losses through the civil justice system.
At Spangenberg Shibley & Liber LLP, our award-winning trial lawyers have helped numerous victims and families protect their rights during the personal injury and wrongful death claim process, including those involving defective products and complex cases against powerful corporations and pharmaceutical companies. We are currently reviewing cases from victims and families who have been harmed as a result of an EpiPen that failed to fire during an allergic reaction, and are available to provide more information about their rights, the legal process ahead, and how we can be of assistance.
To discuss a potential case during a FREE consultation, call (216) 600-0114.