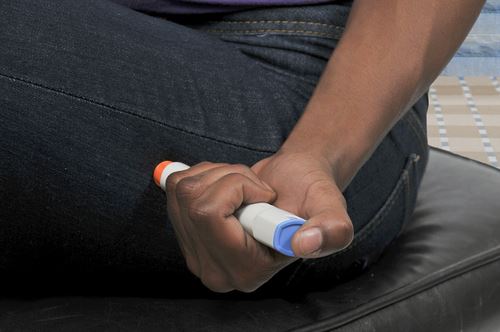 In a recent warning letter issued by the U.S. Food and Drug Administration (FDA), officials accused Meridian Medical Technologies, a subsidiary of the drugmaker Pfizer, of failing to properly investigate and address reports of malfunctioning EpiPens. These include reported incidents of patients becoming severely ill or dying after the EpiPen device, which is used to treat serious allergic reactions, failed to work as intended. Pfizer produces EpiPens for Mylan.
According to the warning letter, the FDA summarizes significant violations of manufacturing practices for EpiPens. These violations include:
Failure to thoroughly investigate problems with the EpiPens, recall bad batches, and follow-up on noted problems.
When investigating a complaint in April 2016 involving a failed EpiPen, Meridian disassembled the device and found the same defective component it had found in another faulty unit investigated in February. Despite the finding, and without investigating all reserve samples, the company claimed the defect was infrequent and stated that no market action would be taken.
During an FDA inspection in early 2017, Meridian employees stated that they did not disassemble and investigate the vast majority of failed devices sent back by customers between 2014 and 2017. After the inspection, Mylan recalled thousands of EpiPens.
EpiPens are auto-injector devices that deliver a shot of epinephrine during serious allergic reactions. When they fail to fire, people experiencing an allergic reaction can suffer from severe illness or die from fatal complications. This was precisely the case for hundreds of consumers, according to the FDA, and a direct result of Meridian failing to investigate and address numerous complaints and reports regarding problems with activating the device.
In addition to recalling 13 lots of EpiPens in the United States and other countries earlier this year, Pfizer and Mylan have reported that they are committed to patient safety and will be working with federal officials to address the issues. The warning letter comes after a round of bad publicity earned by Mylan last year, which resulted in a $465 million settlement with the Department of Justice over allegations that the company overcharged the federal government when it raised the price of a two-injector set to over $600.
Unsafe Medical Devices & Victims' Rights
Although the FDA has not provided details about the number of injuries or deaths associated with adverse event reports and faulty EpiPens, the warning letter makes it clear that numerous reports were filed. FDA warning letters are commonly issued when drug and medical device manufacturers fail to ensure the safety of their products and subject consumers to unreasonable risks of suffering harm.
At Spangenberg Shibley & Liber LLP, our Cleveland-based personal injury lawyers have extensive experience handling product liability cases for victims and families across the nation after they were harmed by unsafe drugs and products. Under product liability laws, manufacturers, distributors, and retailers have an obligation to take reasonable steps in producing safe products and responding appropriately to reports of hazardous defects. When they fail to do so, victims harmed as a result of those faulty products have a right to seek compensation for their damages – including their medical bills, lost wages, pain and suffering, and more – by pursuing civil legal action.
If you or someone you love believes you suffered harm after using an EpiPen that failed to properly function, or if you have lost a loved one to the dangerous defect, you may be entitled to financial compensation. Our team of award-winning lawyers is currently investigating cases from consumers across the nation, and can help you learn more about your rights and how we can be of assistance during a FREE consultation. To speak with a member of our team, contact us today.