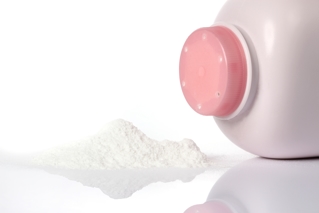 Talc is a mineral made up mainly of silicon, oxygen, and magnesium. When used as a hygienic powder, it absorbs moisture and cuts down on friction and chafing. Adding a fragrance to it, as Johnson & Johnson did with its Baby Powder, also controls odor as well as keeps the skin dry.
For these reasons, many mothers used J&J Baby Powder when diapering their children. In turn, many women continued using Johnson's Baby Powder as part of their feminine hygiene routine. Until 2012 when it was sold, Johnson & Johnson also manufactured a talcum powder product called Shower to Shower. Shower to Shower was marketed solely to women for feminine hygiene use. The catchy phrases, "Just a sprinkle a day helps keep odor away" and "Have you had your sprinkle today," were used throughout its ad campaigns.
Interestingly, not all Johnson & Johnson talcum powder recipes are the same. Johnson's Baby Powder contains 99% talc. Shower to Shower contains approximately 45% talc.
When talcum powder is used in the genital area, it can travel through the fallopian tubes to the ovaries, creating an irritant that could lead to ovarian cancer. Some health experts estimate that of the approximately 22,000 new ovarian cancer diagnoses each year in the United States, 10% of those are caused by talc powder products such as Johnson & Johnson Baby Powder or Shower to Shower.
For more information regarding Johnson & Johnson Baby Powder, Shower to Shower, and ovarian cancer, please contact the experienced talc lawyers at Spangenberg Shibley & Liber LLP.
Related Stories: