Spangenberg Shibley & Liber LLP is proud to report that partners Peter J. Brodhead and William Hawal were part of the trial team representing Paul and Karen Decker in a 17-day trial before the Honorable Dan Polster in Federal Court in Cleveland. The jury found that GE Healthcare failed to adequately warn doctors of the risks that Omniscan will release toxic gadolinium when given to patients with significant kidney disease.
This was the first trial in the country, out of hundreds of lawsuits consolidated before Judge Polster for coordinated case management. Nearly all of the cases had been previously settled by GE Healthcare.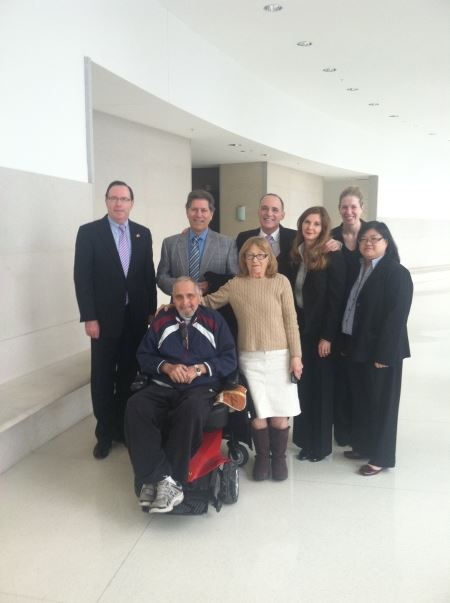 Peter and Bill had been intimately involved in developing the evidence and expert testimony, both in the US and at GE Healthcare's overseas locations, to show that Omniscan had an unusual propensity to release toxic gadolinium and cause a debilitating, and sometimes fatal disease, nephrogenic systemic fibrosis (NSF).
Back row: Trial team: PJB, WH, Chris Tisi, Michelle Parfitt, Brianne Rideout, and Tram Nguyen. Foreground: Clients Paul and Karen Decker.
This trial allowed, for the first time, public disclosure of GE Healthcare's confidential documents and deposition testimony which demonstrated that the company destroyed documents, withheld studies from the FDA and instructed a company researcher to "burn" data which was critical of Omniscan's safety.
We are proud of Peter and Bill's years of hard work which was instrumental in uncovering the truth about Omniscan, and pleased to have contributed to helping Paul and Karen Decker attain a measure of justice.