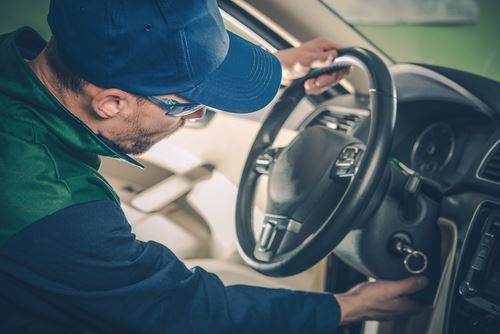 Auto safety recalls have been issued for all types of reasons throughout the history of modern American vehicles. However, the past several years have seen an unprecedented number of recalls affecting the auto industry. This includes some of the country's largest automotive recalls in history, such as the infamous Takata airbag recalls, which was recently expanded in January by an additional 3.3 million airbags. That recall alone, which began in 2014 exceeding 50 million units, has resulted in at least 15 deaths in the U.S. and nearly 200 injuries worldwide.
Because auto safety recalls are issued on a regular basis – with or without associated injuries – many U.S. consumers have begun to accept them as a natural part of the industry. That doesn't mean they should be taken lightly, though. Recalls are issued over defective products and potential problems, including those involving some of a vehicle's most important components and safety features – such as tires, seatbelts, brakes, and airbags. Those defects and potential problems can pose real risks to consumers, especially those who don't take recalls seriously, and neglect getting the repairs and replacement parts that can make their vehicles safer.
With such great risks posed by unsafe and defective auto parts, it becomes important for any consumer who owns an automobile, is in the market to purchase new or used vehicles or new parts, or needs to rent a car to take their safety into their own hands. As some of the nation's most notable recalls have shown, corporations are not always quick to recall potentially defective products – especially if they cost them large amounts of money – until after consumers have suffered harm and they have little other choice.
To protect yourself and your loved ones against auto recalls, take the following into consideration:
When you own your vehicle – If you own a car, truck, SUV, RV, or any other type of motor home, you can be sure it is subject to regulations, including requirements for manufacturers to appropriately warn and inform owners about potential dangers. If you follow the news, don't dismiss stories about recalls – they may potentially affect your vehicle or certain components and parts is uses. You should also be aware that manufacturers must send you a notice of safety recalls involving the motor vehicle you own, so don't dismiss them as junk mail or advertisements. These notices contain important information about the issue, as well as instructions for how you can go about getting them fixed (such as a free replacement or repair at a licensed dealer). If you haven't received a notification but think your vehicle may be affected by a recall, or simply wish to check to be safe, the auto manufacturer's website should have information about any ongoing recalls. You can also use consumer tools like the VIN search from NHTSA, or www.safecar.gov.
When you buy a new or used vehicle – If you are in the market for a new vehicle, due diligence is critical. Make research about safety issues and recalls part of your buying process, using the manufacturer's website or the tools we discussed above. This is especially important when buying used vehicles, as sellers may not always inform potential buyers about safety problems. If possible, bring a used vehicle to a trusted mechanic for a quick inspection before you buy. If you find that a recall is still outstanding for the vehicle you wish to purchase, think about choosing one without such issues, or use that point as leverage for negotiating a better price – just ensure you take it in for repairs and service if you do buy it. While dealers and businesses have legal obligations when selling vehicles, sellers of used cars in many states can sell them with unrepaired recall issues. Always do your due diligence.
Vehicle rentals – If you need to rent a vehicle, it is never a bad decision to research any safety issues or recalls. While U.S. legislators require companies that rent motor vehicles to service and repair them if they are subject to recalls prior to renting them to customers, that law was only recently passed. Because of this, and because you can't always trust companies to do the right thing, you can and should check for recalls yourself, and look closely at the rental agency's policies to see if they discuss their policy for addressing recalls.
As we see all too often, even the most safety-conscientious consumer can suffer harm due to negligence and the wrongful conduct of companies and manufacturers that fail to warn and protect consumers from preventable harm. If you or someone you love has been hurt in an auto accident, including accidents involving defective auto parts, our Cleveland car accident attorneys at Spangenberg Shibley & Liber LLP are here to help. Contact us for a free and confidential consultation.