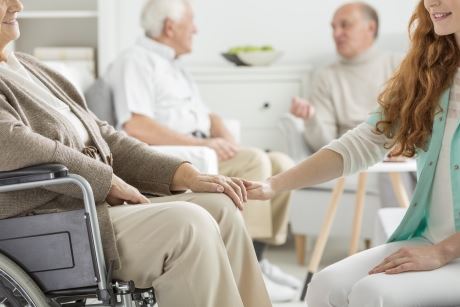 In a previous blog post, we discussed some helpful tips for families choosing a nursing home. Because nursing home abuse and neglect is far more common than most think, and because Ohio is home to some of the lowest rated nursing facilities in the country, taking the time to conduct research and knowing what to look for is critical. However, decisions should not be based on research alone. Asking yourself important questions and visiting the facility to speak with staff or even residents can help you determine the right place and safe environment for you or your loved one.
As a firm that represents injured and abused nursing home residents and their families, Spangenberg Shibley & Liber LLP understands the concerns families have when choosing a facility. In the cases we have handled, many red flags existed when it came to quality of care provided and the quality of life for residents. To help you spot red flags or simply gain a better understanding of what you should be looking for, we have put together the following lists of questions to ask:
Can the level of care and services needed be provided? – Searching for a long-term care facility should always begin with searching for the right type of facility. This means assessing the needs of your loved one and determining if there are any unique circumstances that could potentially limit your options for care. For example, individuals with Alzheimer's or dementia need special assistance in their day-to-day lives, and certain medical conditions may require certain forms of care or the ability to seek such treatment. Begin here to rule out some facilities that don't provide the level of care that's required, and ask the question again to administrators or staff as it directly relates to your loved one. Do they have other residents with similar needs? How are those needs addressed?
Is accreditation and certification in order? – Choosing an accredited and certified facility can provide you with peace of mind knowing that it has been objectively evaluated based on important criteria. One such accreditation comes from The Joint Commission, a non-profit that evaluates health care providers and nursing homes across the country. You should also ask if a facility is certified by Medicare, as the Medicare certification process ensures that facilities operate in accordance to its standards in order to receive payment. In addition to the facility itself, you should also ask about the training and certifications held by staff members, as well as their backgrounds and hiring process, as it directly relates to their ability for providing the care your family member needs.
How does the facility compare to others? – There are services that rate the quality of care provided by nursing homes, and they can be worth a look. This is especially true of reputable sources like Medicare's Nursing Home Compare service, which is available online. You can also gain a feel of how facilities stack up based on your own visits and conversations with staff or residents.
What's life like for residents? – Independence and engagement are important factors in choosing a nursing home, which is why you should ask about the day-to-day lives of residents. This includes activities, amenities, social engagement, and visitation. Having choices over daily routines provides residents with a sense of control, as well as basic human dignity. Restrictions are reasonable when medical circumstances require them, but a facility shouldn't be overly restrictive. Feel free to ask not only staff, but other residents or families of residents if you are able to do so.
What safety procedures are in place? – Preparing for the unexpected is important, and you should ask about procedures and policies in the event of accidents, medical emergencies, and even abuse reporting. Do facilities have emergency trained staff or their own hospital transport? Are there safety alert systems? Does the facility account for loss of power for residents who may require medical machines?
What's in the fine print? – Nursing homes have come under scrutiny in recent years for using mandatory arbitration clauses in their contracts. These clauses shield nursing homes in the event of abuse and neglect, and these clauses severely limit the rights of residents who wish to make their voices heard. Asking to see a contract is your right, and you should be wary of facilities that require private arbitration as a condition of admission. Additionally, you should look for any other potential issues in the fine print of a contract, including hidden fees, requirements for choosing a doctor, and other issues relevant to you and your loved one.
There are many questions you can ask facility administrators, staff, residents, and families in your search for an appropriate nursing home, and you should never be scared about asking them when it comes to the health and safety of your loved one. It is important to remember that even if you take every precaution, the negligent and wrongful acts of others can still occur. When they do, you should also remember your ability to maintain apprised of your loved one's health, and to take the steps needed to address them. Our lawyers are always available to help should you have the need.