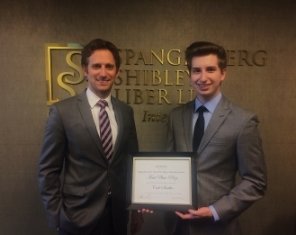 Our legal team at Spangenberg Shibley & Liber LLP is pleased to announce the winners of our 2017 Spangenberg Law Firm Video PSA College Scholarship Contest. This year's scholarship contest drew submissions from local students who will be attending a school of higher education this fall, and who share our firm's passion about making a difference when it comes to important social issues. As part of the contest, applicants were asked to create and submit an original Public Service Announcement (PSA) video on one of four pre-selected topics. These topics were:
How can we help to raise awareness about Traumatic Brain Injuries and prevention?
What can college students do to raise awareness about campus safety issues?
How can young people raise awareness and help prevent human trafficking?
How can we help raise awareness about privacy and online security in the digital age?
The winner of this year's contest was chosen by our firm's selection committee, which reviewed submissions based on their creativity and originality, message, and ability to inspire. Second and third place winners were chosen by the public who voted online. In total, nearly 3,000 votes were cast for the twenty finalists! We're pleased to announce the following winners:
First Prize – The first prize winner of the 2017 Spangenberg Law Firm Video PSA College Scholarship Contest is Cade Santha, a graduating senior from Boardman High School in Ohio. Cade's powerful video PSA on campus safety issues was selected from over 50 entries from students across more than 20 states. The $2,000 college scholarship will help Mr. Santha as he begins his collegiate education at Ohio State University.
Second Prize – Second prize, chosen by online voters, is awarded to Suzanna Thallman. Ms. Thallman's video PSA also focused on campus safety, and specifically detailed how Bowling Green State University (BGSU), where she is currently enrolled, works to help students make smart decisions and promotes safety throughout its campus. Ms. Thallman will receive a $1,000 college scholarship.
Third Prize – Also chosen by online voters, the third prize winner in this years' contest is Max Mcllquham, a graduating senior from Wahconah Regional High School in Massachusetts. Mr. Mcllquham drew from his own experience of suffering a concussion to create his video PSA on awareness and prevention methods for traumatic brain injuries. Mr. Mcllquham will be using his $500 college scholarship when he attends Endicott College in Massachusetts as a freshman this fall.
Our firm would like to congratulate all winners and thank the more than 50 students who took the time to create exceptional video PSAs for the scholarship contest. Their work covering these important social issues shows that our next generation of students are truly passionate about leveraging education to raise awareness and make positive differences.