We are pleased to announce that five Spangenberg attorneys were selected by their peers for inclusion in the 2011 edition of The Best Lawyers in America® in the following specialties.
John D. Liber, Alternative Dispute Resolution
Best Lawyers® has been regarded by many as the definitive guide to legal excellence in the United States.
"We are devoted to seeking justice on behalf of seriously injured victims and their families. It takes good lawyering and an ability to appropriately and compassionately counsel people in times of significant stress in their lives."

-Peter H. Weinberger
Managing Partner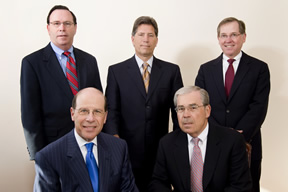 Peter Weinberger, Dennis Lansdowne, Peter J. Brodhead and William Hawal of Spangenberg, Shibley & Liber LLP have been named among "The Best Lawyers in America"
Pictured in Photo:
(front row from left to right) Peter Weinberger, John D. "Jack" Liber
(back row from left to right) Peter J. Brodhead, William Hawal and Dennis Lansdowne
The law firm of Spangenberg Shibley & Liber LLP has devoted over 65 years to being the strongest possible advocate for its clients, protecting injured persons, businesses and consumers alike. From nationally recognized cases such as Vioxx and Gadolinium Dye litigation to individual cases regarding life-changing personal injuries, the firm's lawyers devote their significant resources and experience to gain compensation for injured individuals. Similarly, the firm handles civil litigation claims for businesses of all sizes, on issues ranging from insurance coverage denial to vendor contract disputes.
The 11-lawyer firm employs a team approach in all of their cases, "We put our egos aside and assign the best team of lawyers for each particular case, focusing on who are the best people to handle the case to benefit the client," explains managing partner Peter H. Weinberger.
The results speak for themselves. Spangenberg Shibley & Liber LLP is often called upon by other attorneys to help represent clients in complex litigation and has earned a reputation as a premier trial law firm, both in Ohio and nationally. The firm's lawyers have handled a full spectrum of health care cases-from consumers injured as a result of medical errors or dangerous drugs, to victims of health insurance companies denying valid claims or rescinding coverage-as well as personal injury, nursing home injuries and neglect, and civil rights issues such as police misconduct and discrimination.
The firm augments its broad range of experience with the latest technologies to assist them in researching and presenting cases. From complex document retrieval and analysis to video animation and reenactments, Spangenberg Shibley & Liber's lawyers are able to present evidence to juries and courts effectively and persuasively.
The firm's lawyers have been well-recognized for their achievements. Five lawyers have been selected for inclusion in The Best Lawyers in America® for 2010 and four lawyers have been selected for inclusion in American Trial Lawyers Association's Top 100 Trial Lawyers in Ohio. Spangenberg Shibley & Liber LLP attorneys are also active in the American Board of Trial Advocates, the American College of Trial Lawyers, the International Society of Barristers, the American Association for Justice, and the Cleveland Academy of Trial Lawyers.