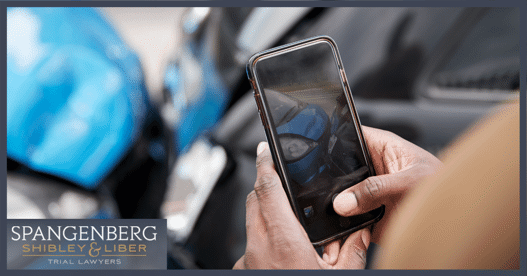 If you find yourself involved in a car accident, it can be challenging to understand the aftermath, especially when you consider the adrenaline and shock involved. During this time, though, it's vital to take the necessary steps to protect your rights and pursue compensation for your damages.
Many factors come into play after a crash, and you should know the various things you can do that prevent you from having your rights taken advantage of by the insurance company. If you follow these steps, you can build a strong case and put yourself in a favorable position moving forward.
The things you should do immediately after a crash include:
---
Call our firm if you need help after a car accident:

(216) 600-0114

.
---
Reporting Your Accident
While you may think local authorities don't need to be involved in a minor accident, it's vital to reach out because police can take statements from all involved parties at the scene of the crash. This police report is vital to your claim and can be essential in proving the cause of the accident.
You also need to report your accident to your insurance company to pursue compensation for injuries and property damage. In Ohio, car accident claims follow an "at-fault" system, meaning the person responsible for causing the accident is liable for damages. Your insurance company will work with the responsible driver's provider to complete a claim.
Reporting your accident to your own insurance company allows you to begin the claims-filing process after a crash.
Exchanging Information
Because you're going through the other person's insurance company to get compensation, you need to secure crucial information after a crash to provide to your insurance company. When you speak with the other driver, be courteous and explain that you need the following pieces of information:
His or her driver's license
His or her insurance card
His or her contact information
You want to be able to provide your insurance company with as much information as possible. The more information you can give your insurance company, the easier it will be for them to reach out to the other party's provider and pursue your claim.
Taking Photos
You want to take photos after an accident to present as evidence to your insurance company. Photos can go a long way to showing the property damage to your vehicle, as well as any physical harm you may suffer as a result of the crash.
These are the photos you should take after a collision:
The scene of the accident: These photos can show any potential signs of negligence, such as tire marks on the ground. Tire marks may indicate the other driver's need to slam on his or her brakes, which could mean he or she was speeding.
The damage to all vehicles involved: Insurance adjusters—yours and the other driver's—can use photos of the damage to determine the value of the claim. These photos can also be used by an accident reconstructionist to show how the accident occurred.
The visible physical injuries you sustain: Take photos of your injuries, as well as those of any passengers in your vehicle. Showing your injuries through physical evidence can help strengthen your medical records and show the extent of your damage.
Talking with Witnesses
If there are other people in the area who witnessed your accident, you can speak with them to gather their contact information. Witnesses can strengthen your claim and provide statements to your insurance company—as well as the other driver's provider—that backup your claims.
Get the witnesses' contact information so you can provide it to your insurance company. Your insurance provider should reach out to get an idea of what occurred at the scene of the crash and whether negligence may have played a role.
Receiving Medical Attention
Whether you have a paramedic on the scene after an accident or you go to the emergency room for an injury, medical attention can be vital after the crash. You want to begin receiving treatment for any injuries you sustain as quickly as possible. Your health is the highest priority after a crash.
Additionally, if you need to file a claim or lawsuit, medical records can play a significant factor in helping you pursue compensation. These records can detail the severity of your injuries, as well as the extent of your long-term damages—such as if you're unable to work after the crash.
Talking with a Lawyer
Unfortunately, it's not always the easiest situation to endure. You should speak with a lawyer who can help you understand what rights you have. A lawyer can help you deal with the insurance company and explain what options you have to move forward should the insurance company deny your claim.
You may need legal representation should the insurance company try to take advantage of your rights.
At Spangenberg Shibley & Liber LLP, we're committed to guiding you through the complex situation you encounter after a car accident. You should be able to focus on your own recovery without having to worry about the legal matters that follow.
Our Cleveland car accident lawyers have significant experience representing people just like you, who have suffered significant damages because of someone else's negligence. We'll go the extra mile to protect your rights and pursue justice on your behalf.
Call us today at (216) 600-0114 to speak with an attorney about your legal rights. We're here for you every step of the way.