Peter J. Brodhead Esq.
Partner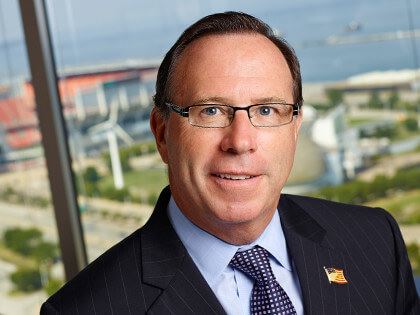 Biography
OVERVIEW
Following a judicial clerkship, Peter Brodhead joined Spangenberg Shibley & Liber in 1980 and has been a partner since 1988.
"At Spangenberg, I have had the privilege of learning from and working with some of the finest trial lawyers in this area," he says. "After thirty years here, I still feel that there is no finer group of attorneys that work so skillfully and diligently on behalf of their clients and their causes."
TIRELESS ADVOCACY ON BEHALF OF CLIENTS
Over the span of three decades, Peter has handled a broad range of cases involving both traumatic injury as well as disease and illness due to toxic exposure from harmful chemicals and, in some instances, unsafe pharmaceutical products. Such matters have included:
Asbestos exposure resulting in asbestosis, lung cancer, and mesothelioma;
Fatal cancers resulting from substances such as benzene and vinyl chloride monomer fumes;
Respiratory disease due to metalworking fluid overexposure; and
Serious lung complications arising from asthma medication contaminated with harmful and potentially fatal bacteria.
Peter served as Plaintiffs' Liaison Counsel in the Federal Multidistrict Litigation 1909: In Re: Gadolinium-based Contrast Agent Product Liability Litigation.
HE HAS ALSO LITIGATED:
Cases on behalf of victims who suffered catastrophic injuries arising from vehicular and trucking collisions, as well as defective machinery and other products;
Civil rights matters primarily involving the unconstitutional use of excessive force; and
Multiple pharmaceutical injury cases involving Fosamax, Actos, and Tylenol.
Peter has penned "Ten Myths and Facts about Defective Drug Injury Claims: What Every Consumer Needs to Know."
In recent years, Peter has handled matters involving patent infringement and represented clients who were denied insurance coverage.
Employment
1980-present Spangenberg Shibley & Liber LLP - Partner

1979-1980 Law Clerk to the Honorable James J. Carroll and the Honorable Harry A. Hanna, Cuyahoga County Common Pleas Court
Education
1979 Cleveland State University - Cleveland-Marshall School of Law (J.D.)
1976 Denison University (B.A. w/honors, History)
1972 St. Ignatius High School
Admitted To
1979 Ohio Supreme Court
1980 U.S. District Court, Northern District of Ohio
1982 6th Circuit U.S. Court of Appeals
1992 United States Supreme Court
Leadership Positions - Bar Activities
Board of Trustees, Ohio Trial, 1995-present, Editorial Board Member, Ohio Trial, 1996-2006
President, Ohio Association for Justice, 2003 – 2004
Vice-Chair, American Bar Association, 1997-1998
Chair, Ohio Academy of Trial Lawyers, 1997-1998
Co-Chair, Gadolinium Litigation Group, American Association for Justice (2007-2011)
Professional Membership
Fellow, Litigation Counsel of America
Cleveland Metropolitan Bar Association
Cleveland Academy of Trial Attorneys
Ohio Association For Justice (formerly, the Ohio Academy of Trial Lawyers)
Leaders Forum, American Association for Justice (formerly ATLA)
Fellow, International Society of Barristers
Master Bencher, John Manos Inns of Court
Lifetime Member, Judicial Conference of the Eighth Judicial District of Ohio
American Board of Trial Advocates
American Bar Association
Recent Lectures
Zofran: GSK and the Generics, AAJ Hot Topics and Trends in Litigation Seminar, September 2015
Zofran: The Antiemetic "Setron" Drugs: Their similarities and differences, AAJ Annual Convention, July 2015
Testosterone Therapy: Panel Member, Mass Torts Made Perfect, April 2014
MDL v. Coordinated State Court Litigation: Strategy, Synergy & Let Them Be, OAJ Winter Convention, 2013
Trial Techniques, OAJ Winter Convention, 2013
Medtronic Infuse Clinical & Regulatory Issues, AAJ Summer Convention, July 2013
Insider Scoop: Mass Torts on the Horizon, Mass Torts Made Perfect, April 2013
Medtronic Infuse Litigation: Hot Topics CLE Program, AAJ Winter Convention, February 2013
Medtronic Infuse AAJ teleseminar
Actos: Medical and Scientific Literature – What Does It Say And Where Do We Stand Today? Mass Torts Made Perfect, Philadelphia, PA, February 2012
Omniscan: Chemistry and Toxicology Overview. Mass Torts Made Perfect, Las Vegas, NV, June 2010
Awards & Recognition
Listed in Best Lawyers in America, 2008 through 2015
"Ohio Super Lawyer " – Nominated and Published by Law and Politics and Cincinnati Magazine and Northern Ohio Magazine, 2006-2015
Selected to Top 50 Cleveland Super Lawyers
Selected to Top 50 Columbus Super Lawyers
Selected to Top 100 Ohio Super Lawyers
Selected to Top 100 Super Lawyers, 2004-2015
Listed as Leading Lawyer in Inside Business Magazine, 2005-2015
Top 100 Trial lawyer, American Trial Lawyers Association, 2009-2015
Pharmaceutical/ Medical Device Litigation Experience
Breast Implant
Fen-Phen
Albuterol (Plaintiffs' Steering Committee, Co-Discovery Chair/Trial Counsel)
Sulzer Hip (subclass counsel)
Medtronic Pacemaker
Welding Fumes
Gadolinium (Plaintiffs' Liaison Counsel/Member: Plaintiffs' Executive Committee, Plaintiffs' Steering Committee/Science and Daubert Committees/Trial Counsel)
Tylenol
Fosamax
Actos
Crestor
Medtronic Infuse
Pradaxa
Granuflo/NaturaLyte
Civic Organizations
Trustee, North Coast Community Homes
Trustee, Cleveland Institute of Music
Advisory Trustee, Little Sisters of the Poor, Cleveland, Ohio
Outside The Courtroom
Peter and his wife, Ellie, have four sons. He sings in the adult choir at St. Francis of Assisi Church in Gates Mills and plays keyboard in a band composed of attorneys and judges. The band plays charity and non-profit organization events free of charge.
Peter is also a long-time supporter of the American Red Cross and donates platelets and plasma regularly.
He is a member of the Advisory Board for the Little Sisters of the Poor which provides a nurturing living environment and skilled care for the elderly poor in Cleveland.
Peter also serves on the Board of Trustees of the Cleveland Institute of Music and North Coast Community Homes, which provides safe, comfortable and affordable housing for individuals with developmental disabilities and mental illness. In 2010, North Coast recognized Peter and Ellie's commitment to the organization with its Philanthropy Award. In 2011, the pair co-chaired North Coast's biennial "Home Sweet Homes" fundraiser. The event raised over $500,000 for this worthy cause.