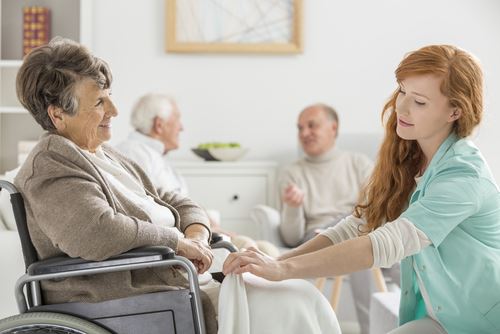 Ohio has some of the lowest overall ratings for nursing home facilities in the nation. That is why it is important to do thorough research before choosing a nursing home for your loved one. Finding a quality facility that meets your needs can be difficult, especially if you are in a rush due to an emergency, like a sudden stroke or physical impairment. In order to help you in your search, the Long-Term Care Ombudsman program, a nonprofit agency in northeast Ohio, provides several tips.
How do you choose a quality nursing home that provides adequate care while suiting your financial/practical considerations?
Make a list of your needs. Making a list can help you determine what you are looking for in a facility. You can include budget considerations, as well as the physical needs of your loved one, such as whether or not they require physical therapy assistance. In addition, you can include personal preferences of your loved one. If you want a facility that offers lots of activities and programs, or if you want a facility fairly close to your home, it is important to write down these considerations. Then, when you are looking at facilities, you can try to find one that meets the highest priority items on the list.
Use other resources. Online sources, such as Nursing Home Compare from the U.S. Centers for Medicare and Medicaid Services, can help narrow your search as you decide between 2 or 3 different facilities. It is important to research each nursing home and use online sources to understand the quality of care, staffing levels, and inspection reports of each facility. You can also call the Long-Term Care Ombudsman agency. This agency will be able to discuss your needs, provide a list of facilities in your designated area, and disclose any Verified Complaint Reports the facility has had within the past 12 months.
Visit the facility. It is important to visit the facility at least twice, once scheduled and once unscheduled. You should take a tour and speak with administrators about how the facility is run and what their quality of care is like. However, it is also important to take a look around on your own. Ask yourself the following questions:

Is the facility clean?
How does it smell?
If you are there during mealtimes, do the residents receive assistance?
Are there a variety of meal options?
What about opportunities for extra activities?
How are the patients treated by the nursing staff, and how do the nursing aides treat each other?
By asking these questions and performing your own unannounced inspection, you can get a feel for how the facility is run and how your loved one will be treated.
Address concerns upfront. When you meet with administrators, be direct in your questions, expectations, and concerns. Share what you are looking for, as well as the specific needs of your loved one. Ask about the facility's history. Is there a high turnover rate of nursing aides? Have there been any complaints or poor ratings in the past? It is important to also look at the surroundings to get a feel for the facility in general. Is it a safe, comfortable, and caring nursing home? When you meet directly with the nursing home staff and take a tour, pay attention to the details and address concerns right away. This can help you get a deeper understanding of the facility.
Once You Choose a Nursing Home, Your Job Is Not Over
The Long-Term Care Ombudsman agency warns against leaving a loved one in a nursing home's care without following up on a regular basis. Even if your loved one is in a 5-star rated facility, it is important to visit regularly and make sure he or she is getting the quality care and medical attention necessary to provide a high quality of life. Every patient needs someone on the outside willing to follow through. After you choose a facility, you should look out for your loved one and make regular scheduled and unscheduled visits to monitor the care and treatment the nursing home provides.
Call Us Today at
(216) 600-0114

for Diligent Representation Against Nursing Home Abuse

If you or a loved one have been mistreated at a nursing home, it is important to fight back and hold the facility responsible. At Spangenber Shibley & Liber LLP, we believe elderly patients deserve to be served with care and respect. Nursing homes have a responsibility to provide adequate care and assistance to residents, and our Cleveland nursing home abuse attorneys can aggressively represent you in court to seek justice for incidents of abuse or neglect.

Contact our firm today for a free initial consultation, and get a trusted advocate on your side.